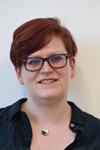 Alex Corwin – Marketing and Programme Manager
Alex studied Children's Literature at Newcastle University before working at Harrogate International Festivals. In 2014 she joined Ilkley Literature Festival, initially as Marketing Officer, but over the course of 6 festival seasons moved up to be Programme and Marketing Manager.
Alex came to Kala Sangam on a freelance basis in 2019, before joining the team permanently in 2020. As well as leading on the marketing for the company, she is responsible for programming work and for managing our artist support offer.
To discuss any artistic ideas you have or for more information about how we support artists (including booking studio space), email a.corwin@kalasangam.org.
---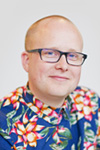 Alex Croft – Creative Director
Alex is responsible for leading and implementing Kala Sangam's strategic vision. This includes developing partnerships, fundraising and representing the company on a number of strategic Boards and Steering Groups. He was the first Chair of Bradford's Cultural Voice Forum and is currently Interim Chair of Bradford Producing Hub.
Alex began his career at Northern Ballet working in both press and marketing before joining West Yorkshire Playhouse and then Phoenix Dance Theatre where he headed up the organisation's marketing team. Prior to joining Kala Sangam, he worked at Arts Council England as Relationship Manager for Dance, working closely with both independent artists and arts organisations across the North. He is a Board Member at balletLORENT and a former trustee of Pyramid of Arts.
To contact Alex you can email alex@kalasangam.org or tweet @alexrobertcroft.
---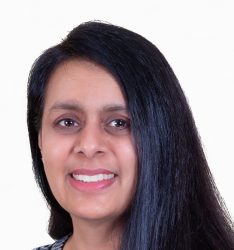 Amer Sarai – Head of Community Engagement
Amer is responsible for developing and overseeing Kala Sangam's learning, participation and outreach programme.
Her career began in the Arts after gaining an Arts Degree at Bradford Art College and she worked in arts participation for 18 years. Her role had a specific focus on engaging people from Asian, African, Caribbean and other diverse communities, to take part in cultural expression in relation to their heritage. She has worked locally, regionally, nationally and internationally on a wide range of projects, many of which have had a lasting impact for those who participated.
In 2009, she moved across to working in Education and she has led on a number of Education, Employment and Skills projects, as well as Education and Learning projects. Whilst working in this sector she secured her Master's degree in Education and has worked with schools and colleges across the whole of the Bradford District. To discuss any artistic ideas you may have, please email amer@kalasangam.org.
---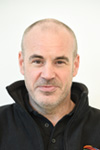 Dave Dearlove – Facilities Assistant and Caretaker
Dave has vast experience working as a caretaker and hotel night porter. He likes old horror movies, animals and cooking, he's a huge football fan and supports Manchester United.
---

Dave Searle – Freelance Theatre Technician
Dave does the sound and lighting for our events.
---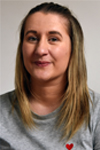 Fay Beesley – Education and Outreach Officer
Fay graduated in Theatre at York St John's University in 2015 and since graduating, she gained considerable experience of working with children and young people through the arts as a freelance theatre facilitator. Fay has performed nationally and internationally at the Camden's People Theatre, London, the Imperial War Museum North and Teatro Ibréco in Lisbon. Fay is a board member of Peshkar.
Fay is responsible for our schools and outreach engagement as well as our classes at Kala Sangam.
To find out more about our school's engagement and classes contact Fay at fay@kalasangam.org.
---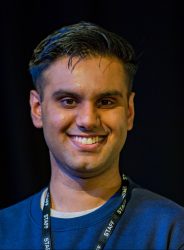 Haider Mahboob – Facilities Assistant
Haider studied Level 3 Creative Digital Media in 2019. Since then, he has worked in the digital marketing field and has a passion for film. Haider previously worked as the arts admin assistant before moving over to the Facilities Team.
---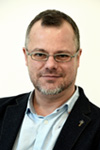 Jez Arrow – Head of Finance
Jez has more than twenty years' experience as a senior arts manager, director and artist in a wide range of contexts, including development of an independent multi-arts venue in the North East and bookkeeper on a Scottish feature film with BBC broadcast in 2013. He's also worked extensively with young people throughout his career, many of them young carers, looked after children and those excluded from education, including tutoring at the Royal Conservatoire of Scotland on the Film & Performance elective for young people.
---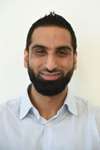 Mohammed Iftikar – Facilities Manager
Ifty is the welcoming face of Kala Sangam, having worked for the company for over a decade. He coordinates bookings, manages events and our facilities team and supports the Head of Commercial in the running of St Peter's House.
---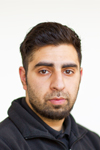 Mo Khan – Facilities Assistant
Mo is part of our facilities team.
---
Nighat Hussain – Marketing Officer
Nighat studied Media at Leeds Trinity University before joining the University of Bradford's Events Team. Working on the University's core, corporate and public engagement events, Nighat brings with her experience in event management including planning, event delivery, marketing and communications.
---

Philip Henegan- Facilities Assistant
Phil is part of our facilities team.
---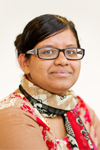 Sidra Bi
Sidra is the Bookkeeper at Kala Sangam. She is the longest serving member of staff here at Kala Sangam and plays a vital role within our finance department.
---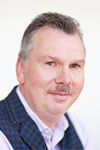 Steve O'Connell
Steve is responsible for promoting our versatile space that can host a variety of events and functions. He strongly believes in the value that arts can add to both business and communities. Steve has spent his career in sales; he is from Bradford and is passionate about promoting the city – especially its football team. For any questions about hiring space at Kala Sangam, you can email Steve on steveoconnell@kalasangam.org.
---
To contact a member of the team, please call 01274 303340 or email info@kalasangam.org.