Kala Sangam and The Schools Linking Network
Kala Sangam is a Neutral Venue visit for The Schools Linking Network programme in Bradford.
What is the Linking Network?
The Linking Network supports schools and communities to develop a positive, cohesive ethos by helping children, young people and adults to explore identity, celebrate diversity, promote community and champion equality. Over time they have developed a carefully designed school linking process, used across the country since 2007, in which two classes from demographically diverse schools meet, build new relationships, work together and contribute to the wider community.

What is a neutral venue visit?
The two classes will meet for the first time at a neutral venue and participate in a number of activities throughout the day. Kala Sangam is able to offer two types of Neutral Venue visits :
Bradford's Creative Communities
Learn and explore all that Kala Sangam has to offer from our thriving theatre space to our amazing visual arts exhibition and be inspired by the creative communities within Kala Sangam. Students participate in an exciting workshop by working with two professional arts practitioners to explore the themes of identity and the diversity within Bradford through theatre, music and dance. As well as meeting and working with other children and young people.
In Partnership with Bradford Cathedral
Students visit both Kala Sangam and Bradford Cathedral for fun, creative drama and art workshops, where they will learn and engage with each other. At Kala Sangam they will create and share short performance pieces. At the Cathedral they will explore its history and work together to create art works inspired by heraldic shields.
Here's what schools are saying about their Neutral Venue Visit at Kala Sangam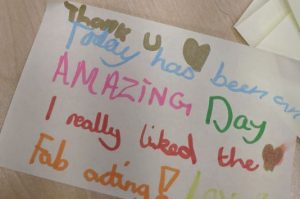 "I've really enjoyed meeting a new person"
"I liked performing with my friend"
"I liked making new friends I also liked drama, I had lots of fun"
"I've enjoyed meeting our linking school children and staff, also, the workshop and Cathedral tour." – Teacher
"I enjoyed watching the children bond with new children, staff are amazing at making children feel welcome and comfortable when doing activities" – Teacher
For more information on The Linking Network and to find out how to get involved click here.