Share your memories of Kala Sangam and St Peter's House
Were you a student at Kala Sangam's Bharatanatyam classes in the 1990s? Do you remember posting that special piece of mail to the other side of the world in the old Post Office? Is there a show that you've seen that has lingered long in the memory? Maybe you've taken part in a performance, workshop or class yourself? Do you have fond memories of Bradford Cathedral's faith museum Millenium Project? If so, we want to hear from you!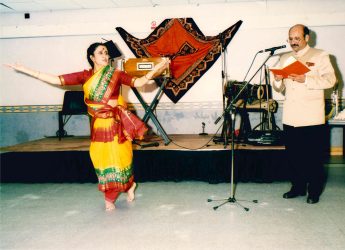 Thanks to generous funding from The National Lottery Heritage Fund, as part of our Capital redevelopment project, and to mark Kala Sangam's 30th birthday this October, we're starting work on an archive that will document and celebrate the history of both Kala Sangam and our home in St Peter's House.
As well as preserving the materials we already hold, we need you – our friends, supporters, local communities and the people of Bradford and beyond to share anything you have with us!
This might be photos, film, an audio recording, programmes and posters or even artwork you created here. It could be as simple as an email with your best memory of Kala Sangam – hearing it in your words would be brilliant. We are particularly interested in materials from Kala Sangam's early history from 1993 onwards.
We are also looking for photos, memories and objects relating to the history of St Peter's House. Built in 1886, the building was originally Bradford's General Post Office and we are sure there are many fascinating stories to be uncovered about the building and the connections Bradford's diverse communities had with it. It's also been home to General Accident and Emergency and the Life Force exhibition and we'd love to be able to also document these periods.
Kala Sangam's Creative Director Alex Croft said "2023 is a hugely exciting year for Kala Sangam, with our big Capital redevelopment plans progressing well and City of Culture drawing ever closer. At a time of great change, we're massively grateful to The National Lottery Heritage Fund for their investment in this project so we can ensure that we protect and preserve the rich histories of both Kala Sangam and St Peter's House. We're really excited about what we might find, and how we can use that heritage to help us shape our ambitious plans for the future."
If you think you might have any archive materials to share, please email Alex Corwin (Marketing and Programme Manager) in the first instance with details on a.corwin@kalasangam.org.