Out of Place appointed to lead Kala Sangam rebrand process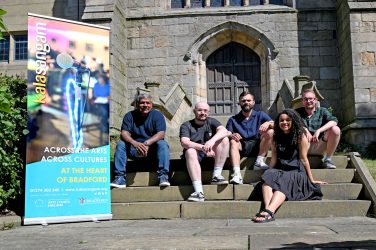 We are delighted to have appointed Out of Place to deliver our rebrand and name change work.
Out of Place are a Bradford-based full service design studio specialising in arts and culture, healthcare, third-sector and education. They provide a full range of creative services from branding and consultation to digital design and web development, placing accessibility and user experience at the heart of any work they do.
Since forming in early 2020 Out of Place have grown to a team of five and worked with a range of clients on a local and national level. This has included work for a number of Bradford-based organisations including Bradford Producing HUB, Cecil Green Arts, Keighley Creative, Bradford Council and Bradford BID. Out of Place have also delivered brand identity and websites for national charities including QEF and Tackle Prostate Cancer and a number of NPO organisations including Quarantine (Manchester), Youth Theatre Arts Scotland (YTAS), LUX (London) and Union Arts (Leeds).
Haigh Simpson, Project Manager for Out of Place said, 'Kala Sangam is an organisation with a fantastic heritage and huge ambition and we are delighted to be partnering them through this exciting transformation.
As dyed in the wool Bradfordians, with a studio based in the city centre, we are passionate about our city and its future. Particularly the part that creativity and culture can play in making Bradford a better place to live, work and enjoy. So to be given the opportunity to work with Kala Sangam is incredibly exciting and ticks every box for us in terms of our values and ambition as a studio.
We've seen how successful Kala Sangam have been in making culture accessible for under-engaged communities and the work they have done to bring people and communities together. Our aim will be to develop a new brand identity that allows them to build on this success and reflects the modern, accessible and welcoming arts centre they are today.'
Alex Croft, Creative Director of Kala Sangam said, 'We were really impressed by Out of Place's values and ethos, they are Bradford people who care passionately about the third sector and supporting the local arts ecology. They have worked on a wide range of projects with Arts Council funded organisations and national charities and well are local organisations like The Peace Museum and Bradford Producing Hub.
Their skills, size and location are and ideal match for us and we are excited to start work on this process with them.'
Following the open call for agencies, we received 6 high quality applications, and invited two for further interviews. The shortlisting and interview panels included male, female, LGBTQ+, neurodiverse and South Asian members of Board and staff, all of whom were unanimous in the decision.
Work on the rebranding process will begin in coming weeks with a number of audience, staff and stakeholder consultations and exercises taking place.