Manjit Virdee Joins Kala Sangam's Board of Trustees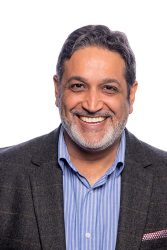 We are delighted that Manjit Virdee, has joined our Board of Trustees.
Manjit is a partner in the real estate team at Bradford-headquartered law firm Schofield Sweeney. The award-winning firm advises businesses and individuals across the UK on a range of commercial legal matters.
Manjit leads the secured property finance and banking team, acting for key banks, subprime lenders and other corporate and individual lenders and borrowers.
He has been recognised as a next-generation partner by the highly regarded Legal 500 and his team won the banking and finance category at the Yorkshire Legal Awards.
Manjit's interests include arts, culture and wellbeing. He is the former President of the Bradford Law Society, post held for 3 years.
Jas Athwal DL, Kala Sangam's Chair said: 'I am so pleased to be welcoming Manjit on to our Board of Trustees. As we move forward with our ambitious Capital redevelopment plans, the wealth of skills and experience he brings will be really valuable to us.'
Alex Croft, Creative Director of Kala Sangam said: 'With our potential redevelopment moving ever closer, Trustees identified that Kala Sangam's Board would be further strengthened by the appointment of a Trustee with both legal expertise and Capital experience. With that specific skillset in mind, we approached Manjit and were absolutely delighted that he was interested in taking on the role. As well as bringing the experience we need, as a partner at one of Bradford's most trusted and well-known law firms, Manjit has a knowledge of the city and its businesses that will be invaluable. The staff team are all looking forward to working with him going forward!'
About Kala Sangam's Board of Trustees:
Kala Sangam is governed and led by a diverse Board of 10 Trustees. The Board is both South Asian led and Female led, and includes Trustees who identify as LGBTQ+ and as being Neurodiverse. Trustees are appointed to Model Board roles and bring expertise in Finance, CYP engagement, Classical Indian performance, Music, Theatre, HR, Business and Law. You can read biographies for all our current Trustees here.