Kala Sangam Announces Ambitious Plans for the Future with Support from The National Lottery Heritage Fund and Arts Council England
As Bradford prepares to welcome the world to the district for an unforgettable year as City of Culture, Kala Sangam is excited to reveal our plans for a major capital redevelopment of our building, which will see Kala Sangam become a bigger, more welcoming and accessible space.
Our ambitious plans will see the company take over the ground of our building, putting in a new 200 seat theatre, creating four new studio spaces, opening up a new prominent, easy to find front entrance and installing a new lift to give access to all floors. We hope to begin work on our building in January 2024 and the reopen in 2025 as a major milestone in the City of Culture programme.
We are delighted to have received £295,758 from The National Lottery Heritage Fund to begin the development phase of this project. This funding will enable us to secure planning permission and support us in the creation of an archive celebrating our 30 year history. Funding will also support us to employ our new Head of Community Engagement to work with communities in the city to explore their own heritage, and that of the building, and empower those communities to co-programme and shape our future delivery.  
We are also delighted to announce that we have been successful in securing an increase in our regular funding from Arts Council England and will receive £362,000 a year for the next three years, starting in April 2023. One of the largest percentage increases in funding across over 900 organisations in the Portfolio, this additional funding will allow us to programme more dance, theatre, music and poetry and increase our support for artists, focusing particularly on Bradford based artists and those working in South Asian Artforms.
Alex Croft, Creative Director of Kala Sangam said, 'We are absolutely delighted to have secured these two significant pieces of funding in recent weeks. Each of these awards will be transformational for this organisation, and is a result of 5 years of incredibly hard work by our brilliant staff team.
The increase in our regular funding from Arts Council England will enable us to support more artists in Bradford, have a greater role in developing South Asian Artforms locally and nationally, welcome larger audiences and play a bigger role in Bradford's City of Culture celebrations.
It is also incredibly exciting to that we are able to begin making our capital redevelopment plans a reality thanks to support from The National Lottery Heritage Fund. At a time when our audiences have been increasing each and every year we know that, for some, our building is just not accessible, particularly as our public lift is too small and very unreliable. This crucial funding is the first step on the road to us changing that, creating a bigger, more open and accessible space for all communities in Bradford to visit and enjoy.'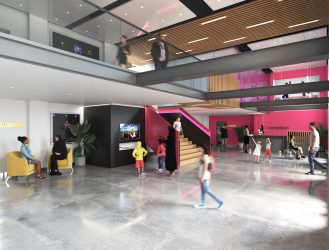 We are working with Halliday Clark on the plans for the building redevelopment. Halliday Clark is a national architectural practice based in Ilkley, West Yorkshire. The practice has grown to deliver high quality Architectural, Interior Design, Masterplanning and Product Design services, covering a vast range of project types, including residential, educational, commercial and cultural buildings across the UK. They aim to create specifically detailed buildings that are directly connected to their context and function and are regularly commissioned to carry out detailed conservation, restoration and refurbishment projects involving listed buildings of all categories ( I, II & II* ) and ancient monuments in Britain and Ireland.
Richard Walsh, Director at Halliday Clark said, 'Halliday Clark Architects are delighted to be contributing a modern chapter to the rich history of this building, creating healthy shared spaces and functions which speak for our time, and the people who will use them. The redevelopment at Kala Sangam will enhance connections, both literal and symbolic strengthening links to the city and the Cathedral Conservation area as well as with the community, and our shared culture and heritage.
Notes to editors
Kala Sangam:
Kala Sangam is an intercultural arts hub based in the heart of Bradford city centre which reflects the diversity of contemporary Britain through the work it presents, the artists it supports and the communities it engages. In addition to the company's two performance programmes a year, Kala Sangam delivers outreach activity in schools and communities across Bradford and throughout the country, as well as delivering classes and workshops in a number of art forms. The organisation's thriving Arts Centre houses two main spaces – The Ganges Theatre and The Indus Hall – alongside a number of high quality meeting spaces and the independently run Roof Top Café, making it an ideal venue for conferences, large events, weddings and meetings of any size.
info@kalasangam.org I 01274 303340 I www.kalasangam.org
Kala Sangam, St Peter's House, 1 Forster Square, Bradford, BD1 4TY
Arts Council England
See more on Arts Council England's 2023-26 Investment Programme on their website: www.artscouncil.org.uk/investment23
Arts Council England is the national development agency for creativity and culture. We have set out our strategic vision in Let's Create that by 2030 we want England to be a country in which the creativity of each of us is valued and given the chance to flourish and where everyone of us has access to a remarkable range of high-quality cultural experiences. We invest public money from Government and The National Lottery to help support the sector and to deliver this vision. www.artscouncil.org.uk
Following the Covid-19 crisis, the Arts Council developed a £160 million Emergency Response Package, with nearly 90% coming from the National Lottery, for organisations and individuals needing support. We are also one of the bodies responsible for administering the Government's unprecedented Culture Recovery Fund, of which we delivered over £1 billion to the sector in grants and loans. Find out more at www.artscouncil.org.uk/covid19
National Lottery Heritage Fund
National Lottery Heritage Fund grant applications over £250,000 are assessed in two rounds. The Transforming Heritage at Kala Sangam project has initially been granted round one development funding of £295,758 by The National Lottery Heritage Fund, allowing it to progress with its plans. Detailed proposals are then considered by The National Lottery Heritage Fund at second round, where a final decision is made on the full funding award of £1,982,363.
Using money raised by the National Lottery, we Inspire, lead and resource the UK's heritage to create positive and lasting change for people and communities, now and in the future. www.heritagefund.org.uk.
Follow @HeritageFundUK on Twitter, Facebook and Instagram and use #NationalLotteryHeritageFund
Since The National Lottery began in 1994, National Lottery players have raised over £43 billion for projects and more than 635,000 grants have been awarded across the UK. More than £30 million raised each week goes to good causes across the UK.