with Santosh Menon
Sat | 11.15am -12.15pm | Age 5 + | £10/ class
Classes will return in September.
Discover the art of Bharatanatyam dance – combining Indian traditions and cultures with intricate movements. Classes are a mixture of in person and online.
Our Bharatanatyam Classes offer the very best quality accredited ISTD training in the classical Indian dance style Bharatanatyam. Taught by renowned dancer, Santosh Menon, this beautiful and dramatic dance style tells the stories of Indian mythology through hand gestures, footwork, facial expressions and neck and head movements.
This class is for children aged 5+. If you are an adult interested in learning/ rediscovering Bharatanatyam, please let us know as we are exploring the options for adult classes as well.
---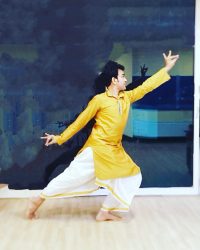 Bharatanatyam Teacher – Santosh Kumar Menon
Santosh Kumar, also known by his stage name as Santosh Menon, is an alumnus of Kalakshetra College of Fine Arts in Chennai India, where he became a guest artist and teacher after completing his post-graduation in Bharatanatyam. He was a visiting scholar at Hong Kong University for three years before moving to the UK.
Santosh Kumar established the Kshetra Dance Company in the UK to promote the traditional Kalakshetra style of Bharatanatyam and to provide training in a more refined way to all age groups. He teaches Bharatanatyam in London, Leeds, Bradford, Halifax, Scarborough, Salisbury and Worcester. He prepares dance students for various grades of the ISTD exams in Bharatanatyam and helps students prepare for their Arangetram (dance graduation).
Besides Bharatanatyam, Santosh Kumar also provides training in other Indian classical dance and music, such as: Kuchipudi, Mohiniattam, Carnatic vocals and Nattuvangam.