Team
To contact a member of the team, please call (01274) 303340 or email:
For Academy and Classes: academy@kalasangam.org 
To Become a tenant or hire a Venue: bookings@kalasangam.org 
For all other queries: info@kalasangam.org 
Ajit Singh
CEO
View LinkedIn profile
Ajit joined Kala Sangam 1997 on a PATH placement. He held several roles in the company until he became the CEO of the company. He obtained a Diploma in Management Studies, ILM5 and has an MBA from University of Sunderland, UK.
He is passionate about arts, culture and the rich heritage of South Asia and in his spare time, Ajit plays the Tabla and enjoys listening to music.
Geetha Upadhyaya OBE
Artistic Director
View LinkedIn profile
Geetha Upadhyaya, a co founder of the company was Kala Sangam's first CEO-Artistic Director. Having worked in the NHS, her particular interest is in creatively addressing physical and mental issues. She holds a postgraduate degree in classical Indian dance (Bharatnatyam) and music career and her main interests are cross art collaborations, choreography and music. Geetha's other interests are in poetry, and piano. In 2016, Geetha was awarded an OBE (Order of the British Empire) on the Queen's Birthday Honour's List for her Services to South Asian Arts.
Cat Scott
Marketing and Administrative Assistant
Cat is a Marketing and Administrative Assistant at Kala Sangam.
She has a broad array of experience in art galleries and events across Bradford and further afield. She aims to attract younger audiences to Kala Sangam, by using a variety of marketing techniques. As well as leading workshops as a Visual Artist and working with the arts team with exhibitions and events.
Jez Arrow
Finance Manager
Kala Sangam's Finance Manager Jez Arrow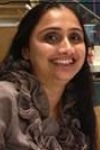 Mandeep Kaur
Marketing and Admin Officer
Mandeep, a science graduate with a MBA (Marketing), is an enthusiastic people's person and uses her marketing skills in creative ways. She enjoys spending time with her daughters, cooking and traveling in her spare time.
Marianne Matusz
Education and Outreach Officer
Marianne is the Education and Outreach Officer at Kala Sangam.
She is passionate about the arts in all forms – theatre, music, dance and literature – and is keen to engage with people of all ages and from diverse communities to share her love of creative arts. At Kala Sangam she will be responsible for managing our Academy classes, devising and promoting our extensive schools activities and developing community partnerships across Bradford.
Mohammed Iftikar
Facilities Officer
Ifty is the welcoming face of our reception desk. He coordinates bookings and assists with the running of St Peter's House.
Sidra Bi
Administrative Assistant
Sidra is an Adminitrative Assistant at Kala Sangam
Steve O'Connell
Venue Sales Manager
View LinkedIn profile
Steve is responsible for promoting our versatile space that can host a variety of events and functions. He strongly believes in the value that arts can add to both business and communities. Steve has spent his career in sales; he is from Bradford and is passionate about promoting the city – especially its football team.
Latest news
New Education and Outreach Officer joins the Kala Sangam Team

Marianne Mutusz joined Kala Sangam as the...

Read more ›

New Marketing and Administrative Assistant joins the Kala Sangam Team

Cat Scott started as our new Marketing...

Read more ›