Creative Arts Workshops
Kala Sangam delivers creative workshops in a range of different art forms. These bespoke arts workshops are fun as well as educational – participants will have the opportunity to gain and develop skills such as leadership, confidence and teamwork and gain a greater understanding of the wider arts world. Whether it's for a certain school subject or for a fun after school club our creative workshops are perfect for your school.
Suitable for all key stages and flexible in regards to prices and timings.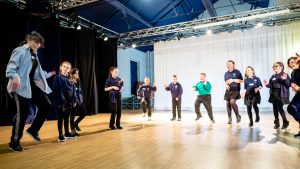 Dance
Our Dance workshops encourage students to lead a healthy lifestyle and promote positive attitudes to physical activity. We can offer any of the following styles of dance:
Classical Indian / Bollywood / Break Dancing / South Asian folk dance including Bhangra / Contemporary Dance
Drama
Our Drama workshops allow students to build up their confidence, team work skills and effectively express their thoughts and feelings. Students can learn a wide range of skills from:
Storytelling / Ensemble Performance / Creative Writing / Devising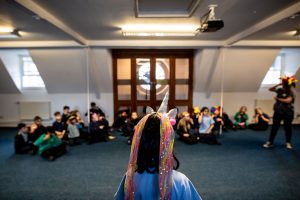 Music
Through our music workshops students will gain a greater understanding of a variety of musical styles and traditions. We offer the following music workshops:
Instrumental / Vocal / Dhol Drumming / Rap / Spoken Word
Visual Arts
By participating in any of our Visual Arts workshops students will gain experience in a variety of artistic techniques and have the opportunity to produce their own creative work. Visual arts workshops we can offer include:
Calligraphy / Glass Painting / A variety of Textile Techniques / Mosaics / Jewellery Making / Sculpture / Murals / Graffiti/ Illustration / Photography
To find out what others are saying about these workshops click here.
To find out about how these workshops can assist with your Artsmark Accreditation and support Arts Award, click here.
For more information or to book a workshop please contact Fay, Education and Outreach Officer, at fay@kalasangam.org or on (01274) 303340.