Indika The Show – A Musical Dance Spectacular
Indika The Show
Fri 26th Sept – Sun 5th Oct 2014
Kala Sangam is delighted to provide the music input and direct this unique show which will be performed in English promises a feast for your senses and an utterly enjoyable unforgettable evening for the family, into a world of Fantasy and Wonder.
Indika is a breath taking odyssey that brings to life the story of one land.
Featuring vibrant classical choreography to a hauntingly beautiful score, this joyous production brings together on stage, a whirlwind of colours and an abundance of energy.
An international cast includes 24 talented young dancers from India, including finalists from India's Dancing Superstar (IDS) and India's Got Talent (IGT).
A West End based creative team and a live band from the UK help create the magic on stage.
Performed in English, this feel-good family entertainment promises a feast for your senses, and an utterly enjoyable, unforgettable evening.
For tickets Please click on the following link:
http://castindoncaster.com/whats-on/dance-event-music-performance/indika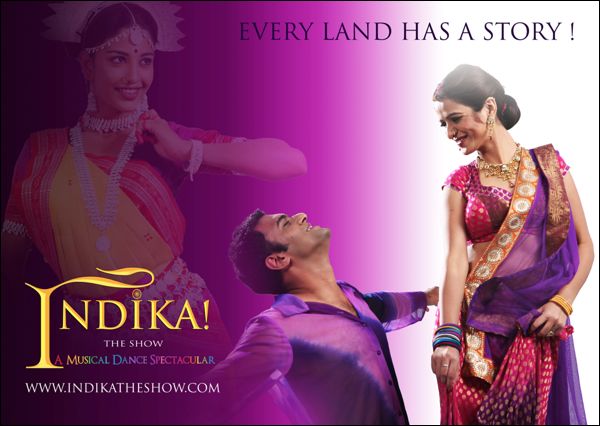 Artistic Direction: Dr Geetha Upadhyaya
Dr. GEETHA UPADHYAYA: Geetha qualified in medicine from the Madras University, Chennai and obtained a post graduation in Chemical
Pathology and a Ph.D for her work on Trace elements and Cancer. Moving to UK as a Consultant in Guy's Hospital, London and later at
Hull Royal Infirmary, she worked in Metabolic Medicine and Endocrinology.
Her career in the arts began when she was in school when she trained in classical Indian dance with the legendary guru K N
Dandayuthapani Pillai and music with her mother Mrs Suseela Vijayaraghavan leading to a post graduation (Vidvat). Geetha specialised
in mime, expression and choreographic techniques with Mylapore Gowri Ammal and then taught and performed classical Indian dance
and music in India, Malaysia and now continues this work in UK.
On moving to Hull Royal Infirmary, Geetha and her husband, Dr Shripati Upadhyaya, Consultant Clinical Psychologist felt that there was
a great lacuna in the field of health / disability and south Asian arts . This initiated the formation of Kala Sangam, (kala = arts; Sangam=
a meeting point) a south Asian arts – culture and heritage company with a mission of 'bringing people together through south Asian and
collaborative arts'. Based in Bradford, Kala Sangam works regionally, nationally and internationally and is acclaimed for its innovative,
high quality, inclusive cross collaborative work.
Being in full time employment with the NHS, Geetha worked for Kala Sangam as a teacher / performer in a voluntary capacity until the
company's growth and demands needed a full time artistic director. This was a turn in Geetha's life when she had to quit a full time
medical job to become the Artistic Director of Kala Sangam.
Kala Sangam is now working towards establishing a centre of excellence for international collaborative arts and heritage at the grade II
listed heritage building, St Peters House, which will become a pride for Bradford and beyond.
Geetha and her husband also founded
'SACAR' for people with Autism, and MANAS – Mind, body care trust in Bradford and Sanjeevani Health Care Trust for autistic children in
India.
Geetha is a Fellow of the Royal Society of Art and is a Director on the Board of Arts and Business, Arts Council of England, MANAS –
Mind, Body Care trust and is the Vice Chair National Diabesity Forum.
She has served on the Boards of West Yorkshire Learning Skills Council, Connexions, National network for arts in health, Asian Business
Development Network and was nominated and short-listed for Asian woman of the year in 2002 and awarded a Doctorate of Letters by
the Bradford University for her contribution to the arts and communities.