Creative Writing Course
Every Wednesday from 7th September to 9th November
by Bradford Poetry Foundation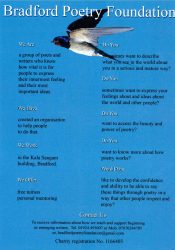 BPF's mission is to support and advance the education of students and the general public and particularly people who are interested in creative writing and providing a programme of activities which will support personal development by nurturing and teaching the skills and abilities to personal expression through creative writing.
For more info email FB.brindle@hotmail.co.uk or call on 07870244705
'Brassed Off' 
Wednesday 21st-Saturday 24th September
by Bradford Players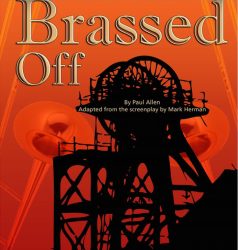 Brassed Off is a story of the struggle of a small Yorkshire mining community fighting to maintain dignity and hope when it has it's heart torn out by the government's pit closure programme of the early 80s. It is a triumph of music and the human spirit over hardship and despondency.
It is 1992, Grimley Colliery faces the threat of closure and the future of the brass band seems uncertain. With the miners torn between redundancy packages and the picket lines, band-leader Danny's hopes of winning the national brass band competition seem like a distant dream. But the arrival of flugelhorn-playing Gloria brings hope, romance and controversy to the Yorkshire brass band on the brink of collapse.
Featuring rousing live music performed by Clifton & Lightcliffe Brass Band, including Rodrigo's Concierto de Aranjuez and Jerusalem, Brassed Off is a funny and heart-warming drama that reaches stirring heights
Passionate and inspiring – a celebration of human endeavour and community spirit in triumph against all the odds.
If you need more info you can message us or post  on our Facebook page 'The Bradford Players'.
Latest news
Introducing Chaitanya Kumar: KS New Resident Musician

We are delighted to welcome Mr Chaitanya...

Read more ›

Aspire-Igen's Caroline Harrison is New Chair of Trustees

Pictured: Caroline Harrison, Group Chief Executive of...

Read more ›